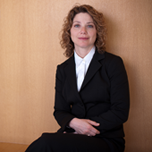 Michelle M. Abel, LL.B
Barrister, Solicitor, Notary Public
Family Law Lawyer
Mediator
Dispute Resolution Officer, Superior Court of Justice (Brampton)
Family & Divorce Law
We provide expert legal advice in all areas of divorce and family law.
With over 20 years experience, Michelle Abel has been practicing family law in the Peel Region since 1995. Providing deep expertise, practical and sound advice, Michelle Abel practices exclusively in the area of family, divorce and matrimonial law.
Michelle appears regularly in the Superior Court of Justice, the Ontario Court of Justice, and the Ontario Court of Appeal, assisting clients throughout the Greater Toronto Area. Michelle is also a Dispute Resolution Officer in the Superior Court of Justice in Brampton.
Michelle offers quality, pragmatic mediation services to parties looking for an alternative to the court process.
We look forward to helping you. Learn more about our family law practice or simply contact us today.