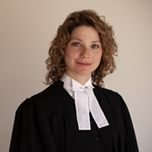 Michelle M. Abel, LL.B
Barrister, Solicitor, Notary Public
Family Law Lawyer
Mediator
Dispute Resolution Officer, Superior Court of Justice (Brampton)
Our lawyers work as a team to provide the best family law services to our clients.
Michelle Abel practices exclusively in the area of family/divorce law. Michelle has extensive knowledge and experience in all areas of family and divorce. Matthew Abel, as a general practitioner, offers our family law clients practical and efficient advice, using his broad based knowledge of the law relating to property, business, financing and estate issues.
At Abel Law, we believe in working with our clients to select the right legal process, depending on the circumstances of each client.
A breakdown of a marriage or a relationship is extremely stressful and impacts on all aspects of life; we understand that our clients are going through a difficult time, emotionally and financially. There are worries about what will happen to your children, where will you live, how will your assets and debts be divided, how much money will you have to live on. These worries are even further compounded if you suspect that your partner is hiding assets or income.
We take the time to understand your concerns and will give you the information that you need to start on a path towards resolving your legal issues.
At Abel Law, we explain the various legal procedures available to you and then work with you to create a strategy for resolving these issues.
Abel Law provides expert legal advice in all areas of divorce and family law.
Our practice areas include:
Custody / Access (Parenting Plans)
Child and Spousal Support
Property / Debt Division (Equalization of Family Property)
Matrimonial Home
Tracing of Hidden Assets or Income
Separation Agreements
Divorce
Cohabitation / Marriage Agreements
Mediation / Arbitration (Representing Clients)
Court Applications / Appeals
Motions to Change
Mediation Services
We look forward to helping you. Contact us today.